We are proud to announce that we have ranked #1 of 31 for Best Fine Jewelry ranked #2 of 17 for Best Wedding Rings

Thanks to all who voted for us on The Boston A-List 2017!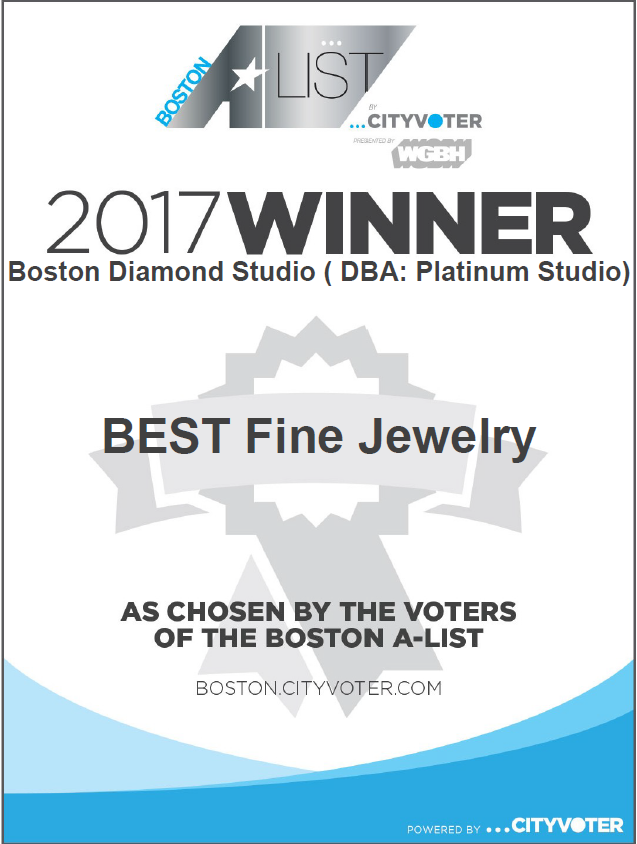 Zeki created an absolutely gorgeous Halo engagement ring for me. We found the prices to be quite reasonable. My fiance and I are having our wedding bands made by him as well. Arvik and Zeki definitely go the extra mile for great quality and service.
Sue F. ⋅
September 3, 2017
Arvik and Zeki are delightful and personable people who happened to also be very good at what they do. They are experienced jewelers who offer personalized and first-class service. The quality of their Jewelery is second-to-none and their price is truly unbeatable. I could not find a jeweler that could offer me the price they offered while not sacrificing quality. They are truly a pleasure to work with and my fiancé could not be happier with my purchase. Thank you for all you do, Arvik and Zeki!
Hung L. ⋅
September 3, 2017
I brought my now fiancée to the Jeweler's Building with a list of highly rated shops looking for a diamond ring and to be honest, I can't recall whether Boston Diamond Studio was on that list, but after visiting a few shops, we passed the Boston Diamond Studio and saw Zeki standing inside. For some reason we knew he could help us, and boy were we right. Zeki and Arvik are the nicest people you will meet and all they want to do is make you happy. We were not sure (or maybe just me) what type of ring we were looking for, but Zeki and Arvik could not have been more helpful in finding just what we (she) were looking for, and within our budget. Never did they pressure us, but they also provided very helpful feedback to help us make the right decision on the ring. They are now our go to jewelry people. I know you will love what they can do for you.
John G. ⋅
August 28, 2017
Zeki and Arvik are so great! They are experienced and made the stressful process of buying weddings rings easy. They take their time to educate you about the weddings rings and work with you to find your ring. They customize wedding and engagement rings as well and their work is great. I strongly recommend them!
Francisca D. ⋅
August 31, 2017
Save
Save
Save
2017 Best Fine Jewelry in Boston