Engagement Ring FAQ
Help! That is what can come to a lot of people's minds when shopping for an engagement ring. Naturally, shopping for a ring requires a lot of decision making and is an intricate process with lots of small details to go over. All the diamond options, setting designs, etc… open a whole new world of things to learn and decipher. We have compiled a list of some real questions we have been asked in the past with hopes that it may help all of you!  At Boston Diamond Studio we are responding to hundreds of thousands of email requests daily along with in store appointments and phone consultations.  We meet people from all over the world on a day to day basis and think this overall list is a great way to learn a bit more about the process and general inquiries as well.
Q: My boyfriend just proposed to me with a engagement ring but deep down inside it is not what I had in mind.  I am over the moon about the proposal but really wished he consulted me on the ring designs!
A:  This can be a tough situation because you definitely don't want to hurt your fiancee's feelings. However, the best scenario is keep the center diamond he selected for you because it is sentimental and instead opt to design a new setting for your diamond. You can set a precious or semiprecious gem into your old setting and use it as a vacation ring or right hand ring so that nothing goes to waste!
Q: We have a budget of around $6000 for a complete ring and while that is not small by any means, I do have my eye on one your more intricate custom settings.  Would it better to go for a smaller center diamond like .70 carats or a moissanite center?
A: The answer to this question really depends on you! Now remember if we are talking about a very simple setting this leaves room for larger center. However with a more intricate design featuring a lot of diamonds and details the setting will take up a lot of the budget. If you like a very big bright look moissanite is an excellent option because it will allow you the intricate design plus the look of a larger center stone. If you like an intricate setting but don't want the center to be too flashy then opt for a  diamond and you will have something timeless.
Q: I am very self conscious about my hands and feel that they are larger than average.  Which shape center-stone and style of ring would you suggest?
A: Larger than average hands or long fingers tend to look the best with more elongated center diamond shapes such as oval, pear, marquise, elongated radiant, cushion, and emerald cuts. The elongated shapes will take up more space on the length of the finger and give a delicate appearance. A diamond that is more square or compact appearing will not have a slenderizing effect. If you still want to take up more space a halo is an excellent option to make your center diamond appear larger and take up more valuable real estate on your ring finger 🙂
Q: I love color metal, especially rose gold but am afraid it is just "too trendy".  Should I still go for it or keep it simple with white gold or platinum?
A: If you like the color rose or yellow gold against your skin tone then go for it! You have to genuinely like the way that color looks against your skin tone. If you select that color for the purpose of how it looks on you then you did not follow a trend. If you are unsure, then get your engagement ring in white gold or platinum and opt to do the wedding band in rose or yellow gold for an added twist.
Q: I showed my boyfriend a ring from your website that I was head over heals with. Unfortunately he went to another jeweler to try to replicate and it LOOKS NOTHING like it.  How did this happen??
A: Unfortunately this can happen and we see it happen ALL the time. Handmade custom crafted settings are a lot different from the 99% of the engagement ring settings created.  Seeing actual examples in person or online of the physical setting work a company such as ours has created is the assurance you need to make sure that creating a setting to your exact specifications is actually possible. If you base a ring entirely off of a single photo, without knowing the capabilities of your craftsman, there is no way to guarantee the quality of workmanship going into it is going to meet your expectations. Coming straight to the source gives you the peace of mind that what you are ordering is going to come out exactly the way you envisioned from start to finish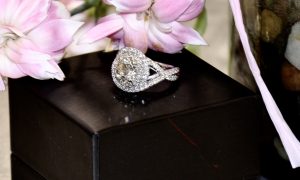 Q: We know nothing about engagement rings and almost feel lost with all the information out there.  Where do I begin!?
A: The easiest way to really go about it is first select your favorite diamond shape, select your favorite setting, come up with a budget, and then see what you can tweak to fit the ring within your range. We offer diamonds and settings at all price points so the budgeting part is no issue. Once you have the basic outline of what you are looking for the small details will fall into place.
Q: Our wedding is coming up in 6 months.  When do you think we should come in to look at wedding bands?
A: Wedding band orders tend to take around 4 +/- weeks to complete however, right before the wedding there is sure to be a lot of stress and time sensitive things to take care of. We recommend ordering bands as much in advance as you can (3 months is a good number) to make sure you have everything ready for your big day. There are so many other small details to worry about on your wedding day like guests, accommodations, food, etc… that worrying about wedding bands is something you can get out of the way early.
We hope this FAQ session gave everyone a bit more insight. For all inquiries Contact Us  or request a FREE Quote.