Custom Engagement Ring
Thinking of custom-designing an engagement ring or wedding band?
Here's what we learned from our experience:
1. Choose a reputable jeweler.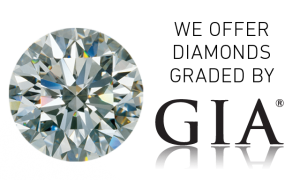 If you're buying a Custom Engagement Ring , diamond must come with a GIA (Gemological Institute of America, Inc.) report or some other appraisal by a certified jewelry institution. If you already own the diamond,  then the jeweler should be able to reset it in an hour or so while you wait in the store.
2. Start early.
Find a jeweler who is happy to work with you until you're 100% satisfied with the design.
3. What to look for in a diamond…
One way to save is to choose a diamond with a carat weight that's slightly smaller than the "magic sizes": one carat, one-and-a-half carats, two carats, etc. It's nearly impossible for the average consumer to tell the difference between two diamonds that are very close in size. For example, a 1.01-carat diamond may cost as much as 20 percent more than a .98-carat diamond, even though they look practically the same to the naked eye.
4. Try on different ring settings — don't go into it blind.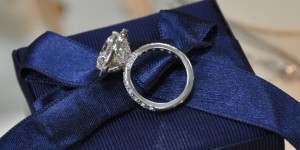 This might be obvious, but it's worth mentioning that you can show your jeweler photos of rings that you like, but they can't replicate existing styles from other brands — it must be a completely original design.
Grooms, if you prefer to surprise your bride-to-be by picking out the ring on your own, look in her closet to get a feel for her everyday jewelry. Does she own mostly white gold or warmer tones? Do her pieces tend to be more simple or ornate? Consider her lifestyle as well — if she has a job that's very hands-on or she's the outdoorsy type, then a setting with a lower profile might be a more practical choice than one with a higher stone. When grooms really aren't 100% sure, we recommend proposing with a classic solitaire band, which the bride can always switch out later on.
5. It can be easier (and cheaper) to purchase the engagement ring and wedding band from the same place.
Going to the same jeweler for both rings is helpful because the store reps become familiar with your sense of style, and may be able to better assist you. With all of the other wedding-planning appointments we brides have, who really wants to go through the store search process all over again? Also, from our experience, jewelers may be more willing to work with you on pricing if you make repeat purchases.
There's this misconception that Custom Engagement Ring costs a fortune; of course, it varies depending on the labor and ornamentation involved, but it can even be more affordable sometimes.
Custom Engagement Ring is a great option for brides who want a one-of-a-kind piece or want to incorporate stones that were passed down to them by family members.
Save
Buying a Custom Engagement Ring