Quality – Gone are the days of selecting a mass-produced, cloudy diamond ring from a fingerprinted case. Today, you have the ability to conceptualize your dream ring with Boston Diamond Studio.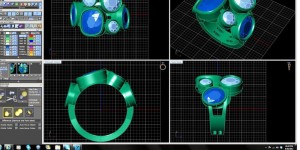 Customer Service – Our personalized, consultative process puts the custom in customer service. There are a number of diamond retailers that offer "semi-custom," but pale in comparison to the full custom design capabilities available at Boston Diamond Studio.
Customization – Expect to be wowed. The possibilities of a custom piece are only limited by your imagination. Our designer have seen and done it all, so come to us with your craziest ideas and we'll turn them into a reality.
No Compromises – From design, to metal type, to stone cut; you get a ring that is exactly what you want. Why compromise for a ring that you simply 'like' when you can afford a ring that matches your dream. It's 100% beautiful, at 50% of the cost of a diamond ring, but with a 100% guarantee.
Uniqueness – There is nothing like a custom engagement ring because each is truly a one-of-a-kind piece. If you can dream it, we can make it. We allow you to have full control over your design, and we'll be more than happy to help you every step of the way.
Boston Diamond Studio's customer service is unmatched. The custom designed rings are unmatched, and the final results are unbelievable. Choose Boston Diamond Studio for your custom engagement ring or jewelry piece.
Reasons to choose custom jewelry